Latest News
Mission Statement
United Parish of Upper Nidderdale PCC Mission Statement
Loving God, Loving People, Partners in Mission.
Six Buildings – One Church – One Mission.
Growing the worshipping community
The vision of the parish is to be a worshipping community that is growing numerically & Spiritually.
Promoting our spiritual and built heritage
The vision is to develop our buildings as places of encounter, engagement and spiritual significance.
Working with the Diocesan Bishop and the Church in the Dale in mission
The vision is to support the Diocesan Bishop and the Church in the Dale in mission by developing outreach, partnerships, fellowship & relationships which are centred on sharing our faith.
Engaging with the issues and needs of the world
The vision is to engage with our local communities, the region and the wider world; in particular to become known as a parish that acts for & speaks with integrity on issues of the rural communities.

Hot Potatoes


Led by Dr Peter Vardy (See Poster above and detail below)
The aim of this initiative is to engage those attending with contemporary issues, but also to explain different approaches particularly to Christian understandings of ethical dilemmas.
Wednesday 6th September
HOW TO MAKE ETHICAL DECISIONS
This session will explain different approaches to ethics and will consider whether there are any ethical absolutes or whether all morality is simply relative to culture.
Wednesday 4th October
EUTHANASIA AND DEATH
A rising percentage of the population are over 70 and many are not working. This creates real economic problems for many societies. What is more, as life is lengthened the quality of life can sometimes be poor. Ethical questions about whether euthanasia and assisted suicide should be legal become increasingly relevant. There are also related questions as to whether there is a life after death and what form this may take. Alternative approaches to these issues will be explored.
Wednesday 8th November
SEX, FERTILITY, NEW METHODS OF REPRODUCTION AND MARRIAGE
A rapidly increasing number of males are infertile and new scientific advances to respond to these and other problems raise important ethical issues. The percentage of couples who divorce is already significant and this give rise to discussions about the nature of sexual relationships in an increasingly secular world.
Wednesday 6th December
CAN WARS BE JUST?
There is a long history of thinking about the justice of wars - both when it is morally right to fight and how wars should be fought. Traditional approaches will be explained together with the challenges provided by new technology including the use of drones, nuclear weapons and economic warfare. Questions will be posed as to whether any war today can be regarded as just. The conflict in Ukraine will be used to illustrate the issues
Wednesday 10th January
MONEY, POWER AND ECONOMIC JUSTICE.
The gap between the wealthy and poor has always been wide but in many countries the gap is widening rather than narrowing. Alternative ways of understanding different economic systems will be considered as well as the challenge provided by local, national and international poverty. Business ethics and the relevance of altruism as well as contrasting Christian teachings will be explained.
Wednesday 7th February
ARTIFICIAL INTELLIGENCE
The challenges provided by the increased sophistication of Artificial Intelligence will be analysed. The work of Oxford University's 'Future of Humanity Institute' and Elon Musk's Neuralink company will be considered. A.I. can provide real benefits for human beings but there are many voices today warning that advances in A.I. may threaten the survival of humanity. The issues raised by this technology on employment, medicine, the law and many others areas will be considered.
Dr Peter Vardy is a British theologian. The author or co-author of 18 books about religion and ethics. He was vice-principal of Heythrop College, a Jesuit college in London, from 1999 to 2011. He is known for the religious-studies conferences he runs in the UK for schools.
CHARITY COFFEE MORNINGS
St Cuthbert's Church is very pleased to be able to offer the Church Lounge for Coffee Mornings (free of charge) between 10am and 12pm on the third Saturdays of the month for local charities and initiatives. The emphasis is for the benefit of local rather than national charities.
The coffee mornings on the first Sunday of the month will raise money for St Cuthbert's Church.
Enquirers should contact Margaret Mitchell on 711041 to book a slot.
A Lasting Gift
We are privileged if we can leave a mark of our passing, to be remembered by those people and causes we've cared for in life. A gift in your will to your church is one of the most valuable and lasting ways you can continue to support its mission and ministry.
As Christians and supporters of our local church many of us have been giving regularly to the mission and ministry of the parish. Gifts in wills are a natural part of Christian giving. No matter how large or small every gift that is left to the local church can make a lasting difference.
There are many ways such a gift can help support the work of the parish. For example a gift in your will could support the church's ministry to young people, refurbish the kitchen or toilets, provide better heating, support overseas mission partners or purchase new bibles or hymn books.
In the six churches of the Parish of Upper Nidderdale we welcome all gifts in wills, however large or small, and we promise to use your gift to make a difference to our parish. Our PCC Legacy Policy is to use gifts to help fund significant projects, whether buildings, equipment or staff.
You may wish to help the Church in your Will, either by a specific bequest or one where you leave what is left over when all your bequests are fulfilled. If you have already drawn up a Will it is a relatively easy matter to amend it to include a bequest to your church. Such a bequest will be free of Inheritance Tax.
Barry Nuttall

If you would like to talk to someone in confidence about any aspect of legacy gifts and their use or will-making in general please contact either Barry Nuttall (Parish Giving Officer) or the Revd Darryl Hall.
St Cuthbert's Church Hire of Lounge and Kitchen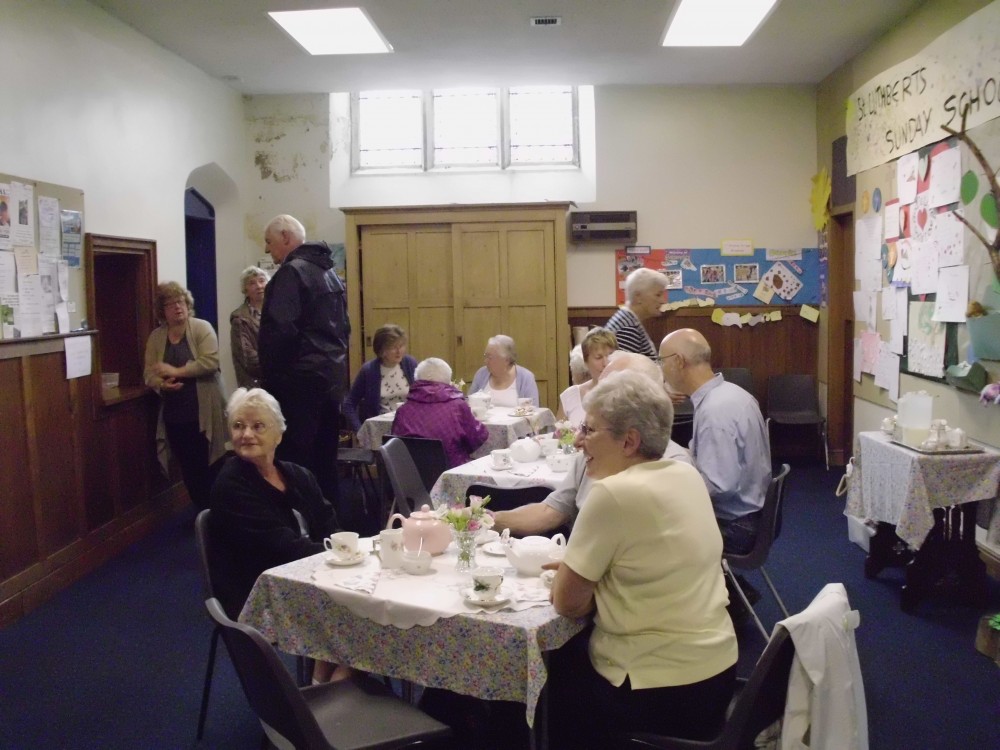 You are welcome to hire the facilities at St Cuthbert's Church Coffee Mornings, Meetings, Private Parties Cost is £15.00 per hour or £40.00 per half day The church is available for hire for concerts etc. - rates on request. To book please telephone Margaret Mitchell on 01423 711041
Easy Fundraiser
Do you do you shop on-line? We, in the Parish of Upper Nidderdale, strongly urge you to make use of our local shops, they have almost everything we could need. However, we are conscious that people do shop on-line too. Did you know you could raise money for our parish at the same time? Simply go to www.easyfundraising.org.uk and support the United Parish of Upper Nidderdale - a percentage of whatever you spend goes back into our Parish at no extra cost to you, but please support our local shops whenever you can. Thank you.
The Upper Nidderdale Food Bank
A heart on fire for God is one which supports and loves those on the fringe, struggling, and in need of grace. It is really important to the Church in the Dale to respond to situations of crisis. We are especially aware of those in our area who struggle to put food on their tables, because of this we regularly collect food either for our local Food Bank or for the Harrogate Homeless Project.
If you would like to donate food please donate tinned food (vegetables, meat or fish), rice, pasta, juice, biscuits, tea and coffee, cereals, tinned sponge puddings, rice pudding, instant mash potatoes, milk (UHT or powdered), and toiletries. Please do not include fresh food or baked beans in your donation. Receptacles for donations are in St Cuthbert's Church, Pateley Bridge (all week during daylight hours) for the Food Bank, Holy Trinity Dacre Banks (all week during daylight hours) and Christ Church Darley (Service times only) for the Harrogate Homeless Project.
Food Parcels can be obtained by contacting
Reverend Darryl Hall 01423 711414